What is Glaucoma?
Glaucoma also called 'KALA MOTIA' is a disease that damages' optic nerve' of the patient. It is one of the commonest cause of irreversible blindness all over the world. It happens because of build up of pressure inside the eye. The increased pressure in your eye, Intraocular pressure, can damage your optic nerve,which sends images to the brain. If damage worsens, glaucoma can cause permanent vision loss or even total blindness within few years. Many forms of glaucoma have no warning signs. The effect is so gradual that may not notice a change in vision until condition is at advanced stage. So, it is important to see your eye doctor regularly.
Who is at Risk of Glaucoma?
People over 40yrs of age.
People who experiences frequent change in the prescription of glasses.
People using corticosteriods for extended periods.
People having myopia or short sightedness.
People having diabetes or high blood pressure.
Family history of glaucoma.
Any trauma to the eye or eye surgery increases the risk.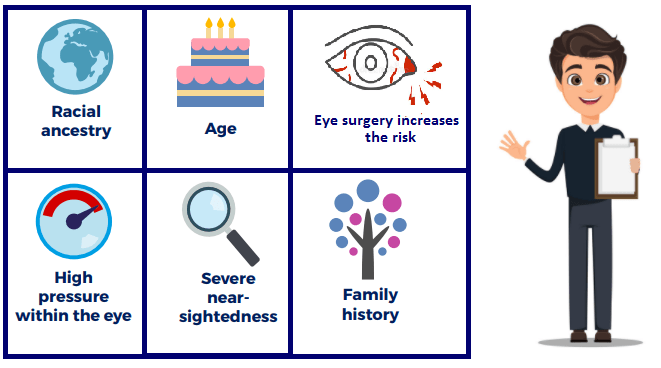 Symptoms of Glaucoma
Most of the times,there are no symptoms that is why it is called as "SILENT THIEF OF SIGHT". Disease may effect 80% of vision ,before a person realizes the effect on vision. Acute Glaucoma in which pressure rises rapidly, causes severe symptoms that force the patient to consult a doctor.  Some symptoms suggestive of glaucoma are-
Poor night vision.
Appreciation of blind area.
Headaches during dusk or down.
Pain in the eyes, particularly when associated with smoky vision.
Halos around light.
Frequent change in number of reading glasses.
Diagnosis of Glaucoma
Your doctor will receive your medical history and conduct a comprehensive eye examination. He or she may perform several test including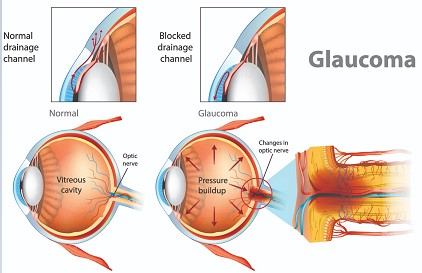 Measuring Intraocular pressure ( Tonometry)
Testing for optic nerve damage with dilated eye examination and imaging tests.
Checking for areas of vision loss (Visual field test).
Measuring corneal thickness ( Pachymetry ).
Inspecting the drainage angle ( Gonioscopy ).
Special Investigations to document the extent of structural damage to the optic nerve head and Retinal nerve fibre layer are-
Visual Field Analysis.
Nerve Fibre Analysis
OCT ( RNFL)
OCT (OPTIC NERVE HEAD)
Treatment options of Glaucoma
With early detection, glaucoma can often be controlled with medications either eye drops, oral medicines or laser procedure. If there is no response over a period of time, doctor may also recommend Glaucoma Surgery. In certain cases, Glaucoma Surgery is preferred as first line of treatment.
---
FAQ (Frequently Asked Questions)
---
Q: – How long do we need to use eye drops for glaucoma?
 Ans: – A person who has glaucoma will have to use eye drops throughout his lifetime.
---
Q: –If any of my parent has glaucoma, am I at risk?
 Ans: – It is not necessary, but the risk of getting glaucoma does increase. It is always good to have Glaucoma screening tests done.
---
Q: –Is there any side effect of eye drops used for glaucoma treatment?
Ans: – Yes , certain eye drops used for treating glaucoma can cause redness, itching, irritation in eyes. These side effects persist for short duration. If present for long time, it is recommended to visit your eye doctor.
---
Netra Eye Hospital is an excellent eye hospital in tricity with advanced technology and very experienced and senior doctors. I visited the doctors here from United States had a very excellent experience with my eye Lasik surgery from Doctor Mukesh Aggarwal Read More...
Possibly the best place for your eye treatment in Tricity, esp. for Cornea related issues. I have visited PGI, AIIMS and several Private institutes for my advanced Keratoconus, but I finally got all my worries sorted when I started visiting Dr. Mukesh at GEI, Sector 9, since 2014. And now he has opened this really advanced and beautiful new hospital Read More...
Dr. Mukesh Aggarwal is a very good eye surgeon, cool behavior, treat the patient with patiently. Cataract specialist. Co surgeon Dr. Pooja is aslo very nice and all staff is good. Highly recommended for all kind of eye treatment. Read More...
Cashless TPA Empanelment's