Cataract services
A cataract is cloudiness or opacity of eye's natural clear lens.Cataract blocks the light making it difficult to see clearly. Over an     extended period of time, cataracts can cause blindness. It is a progressive and painless condition which is usually related to increasing age but can occur in younger age groups also.
Symptoms of cataract
Progressive and painless loss of vision
Seeing double (when you see two images instead of one)
Being extra sensitive to light
Having trouble seeing at night
Need more light when you read
Brightness and contrast of images decrease
Colours become less distinct (bright colours look faded or yellow instead)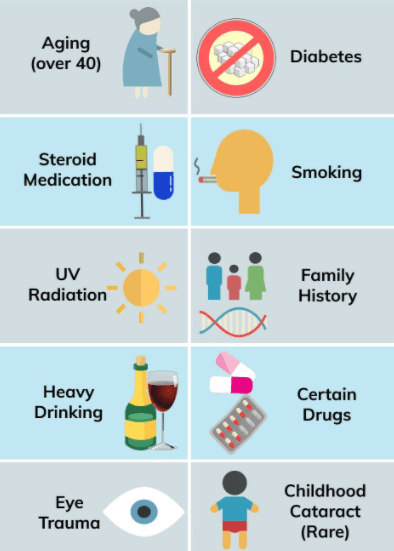 Causes of cataract
Advancing age most common cause
Ultraviolet radiation from sunlight and other causes.
Diabetes
Hypertension
Obesity
Smoking
Prolonged use of corticosteroid medications.
Previous eye surgery or inflammation.
High myopia
Family history
Alcohol consumption
Is there a cure?
Although research is currently underway, no preventive measures are known for cataract that develops with age. No diet, drugs or medicine have been proven to delay or cure the cataract. Only treatment is surgical. Cataract surgery is safe surgical procedure, with the appropriate lens implant.

cataract service in Panchkula
Phacoemulsification

Phacoemulsification is a modern cataract surgery technique in which eye internal lens is emulsified with an ultrasonic hand piece and aspirated from the eye.IOL is implanted and surgery is completed without any stitch. The size of incision is only 1.8 mm to 2.2 mm long. The minute incision is self sealed and needs no suture or stitch to close it. The patient is back to normal activities within few days. To retain maximum benefit of miniature 2.2 mm incision a foldable IOL is used. Foldable IOL is inserted inside the eye in a fine tune and it unfolds to its full size once inside the eye.
Next generation monofocal IOL'S
Enjoy enhanced vision and and greater spectacle independence for a distance and intermediate vision with new generation monofocal IOL'S.
Toric IOL'S
A significant proportion of population has astigmatism ( cylindrical refractive error) that is not corrected with standard IOL'S resulting in need for spectacles for both distance and near vision. With the availability of cutting edge technology it is possible to implant customized IOL 'S which have capability to correct cylindrical errors as well. These IOL 'S are known as toric IOL'S and are available in both single focus and multifocal platforms. The use of these IOL'S offers greater chances of spectacle free vision to the patient.
Multifocal IOL'S
Artificial IOL'S that are designed to provide focus of both distance and near objects in contrast to monofocal IOL'S which only have one focal point and correct distance vision. These type of IOL'S provide great levels of patient satisfaction.
Trifocal IOL'S
This type of IOL'S have three points of focus and thus provides improved distance, near and intermediate vision.
Why to choose NETRA EYE HOSPITAL?
Hospital is equipped with latest technology and state of art ophthalmic equipments for early diagnosis and treatment of ophthalmic disorders.
There is a team of dedicated professionals running there respective facilities at hospital.
Mukesh Aggarwal is renowned ophthalmologist in this region with expertise in advanced micro incision cataract surgery(phacoemulsification), corneal transplantation and refractive surgeries.
Dr Mukesh Aggarwal has performed more than 20,000 successfully different eye surgeries so far.
Netra Eye Hospital is an excellent eye hospital in tricity with advanced technology and very experienced and senior doctors. I visited the doctors here from United States had a very excellent experience with my eye Lasik surgery from Doctor Mukesh Aggarwal Read More...
Possibly the best place for your eye treatment in Tricity, esp. for Cornea related issues. I have visited PGI, AIIMS and several Private institutes for my advanced Keratoconus, but I finally got all my worries sorted when I started visiting Dr. Mukesh at GEI, Sector 9, since 2014. And now he has opened this really advanced and beautiful new hospital Read More...
Dr. Mukesh Aggarwal is a very good eye surgeon, cool behavior, treat the patient with patiently. Cataract specialist. Co surgeon Dr. Pooja is aslo very nice and all staff is good. Highly recommended for all kind of eye treatment. Read More...
Cashless TPA Empanelment's