NETRA EYE HOSPITAL is one of the leading Eye Hospital in the state of Haryana. The hospital was established on 19th September, 2018 under the dynamic leadership of Dr Mukesh Aggarwal.
Dr. Mukesh Aggarwal is the renowned ophthalmologist in this region. He has the expertise in advanced  Micro – incision Cataract Surgery (Phaco emulsification) , Corneal Transplantation and refractive surgeries. He  has performed more than  25,000 successfully different eye surgeries so far.
The Hospital is located at S. C. O.  404,  Sector 20 Panchkula with a spacious carpet area of 1600 sq.feet.  The hospital has 24 hrs power back up.
The hospital is equipped with latest technology and state of art ophthalmic equipments for early diagnosis and treatment of various ophthalmic disorders.  Netra eye hospital provides a multi-specialty portfolio of ophthalmology services within an approachable and ergonomically designed premise. All anterior and posterior segment surgeries are performed regularly.
There is a team of dedicated professional running their respective facilities at the hospital. The doctors working at the hospital have put in many years for training and service at the most prestigious ophthalmic centres in the country and abroad. Their expertise provides best diagnostic and treatment services for eye patients regarding diagnosis, treatment and surgery. The hospital has all the essential supporting services to ensure efficient functioning which maintains its high quality of patient care in terms of cleanliness, reliability, nursing care and speedy service.
The Hospital has state of art Modular Operation Theatre fitted with HEPA filters conforming to national and International standards.
The hospital is having well educated, dedicated and experienced patient friendly supportive staff to provide services for patients and their attendants.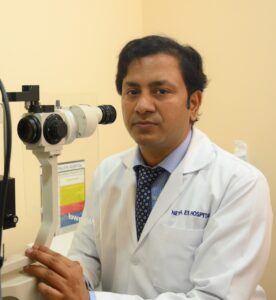 M.B.B.S., M.S. Ophthalmology
Fellowship cornea and microsurgery (FCMS)
FAICO Refractive surgery
Cornea, Cataract & Refractive Surgeon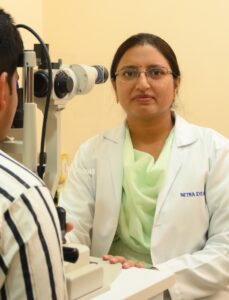 M.B.B.S., DNB Ophthalmology
Fellowship Lasers In Diabetic Retinopathy
Vitreoretina and ROP (P.G.I. CHD)
Pediatric Ophthalmology Specialist
 There are various subspecialized clinics like Phaco clinic, Lasik clinic, Retina clinic, Squint clinic, Cornea clinic, Diabetic clinic, Glaucoma clinic, Laser clinic and Contact lens clinic to diagnose a disease and prescribe the best possible course of treatment .  A considerate priority is given to vulnerable group which includes infants, elderly and physically challenged individuals. Every patient is checked thoroughly every time he visits Netra eye hospital. We believe in not only treating an individual but also educating him. 
The core values of the hospital are Quality Eye Care, Ethics, Compassion, Positivity, Patient is Priority, Trust and Community. These values are deeply embedded in the whole team of NEH.
Quality Policy : – We shall continuously endeavour to provide quality eye care services to achieve and further enhance patient satisfaction. This shall be achieved by focusing on patient`s needs, keeping the employees positive and empowered, and   making continual improvements in our services and systems.
Mission of the Hospital
 In this endeavour to bring Quality Eye Care to each and every citizen,we
Follow stringent ethical practices.

Provide value for money.

Compassion

Sensitive and committed professionals 
Vision : – To be the best eye care provider with cutting edge technology and state of art treatment at an affordable price.
 Values
Quality eye care

Ethics

Compassion

Trust

Positivity

Patient is priority

Community
These values are deeply embedded in the whole team of NEH.
Netra Eye Hospital is an excellent eye hospital in tricity with advanced technology and very experienced and senior doctors. I visited the doctors here from United States had a very excellent experience with my eye Lasik surgery from Doctor Mukesh Aggarwal Read More...
Possibly the best place for your eye treatment in Tricity, esp. for Cornea related issues. I have visited PGI, AIIMS and several Private institutes for my advanced Keratoconus, but I finally got all my worries sorted when I started visiting Dr. Mukesh at GEI, Sector 9, since 2014. And now he has opened this really advanced and beautiful new hospital Read More...
Dr. Mukesh Aggarwal is a very good eye surgeon, cool behavior, treat the patient with patiently. Cataract specialist. Co surgeon Dr. Pooja is aslo very nice and all staff is good. Highly recommended for all kind of eye treatment. Read More...